Charles Victor Morine
$6.50 or 3 Pages of Your Story
Difficulty: Engrossing (click for info)
The Charles Victor I met as a baby was already a nonogenarian; by the time we had an interaction I would remember, he had been around for a century. I see him in memory as a turtle-ish little man, with dappled skin, watery blue eyes, and a grin that cleft his face in two. At his one hundredth birthday bash, he played the harmonica for the assembled generations as the surf lapped the sides of boats at the Kaneohe Yacht Club. The air smelled like plumeria and coconut oil, and I had a brand new dress; I was eight years old. I made a speech about a letter I'd written: Dear Mr. President, it said, my great-grandfather is turning one hundred years old. The office of George Bush, Senior wished us both the best; Charles Victor Morine had seen a lot of history.
He had, indeed. Hawaii had been a US territory for barely thirty years when my great-grandfather shipped out from California in 1924, soon to be joined by his wife Jessie and young son, Victor. Born three years before the 1893 overthrow of Queen Liliʻuokalani by Sanford Dole, the US Marines and so-called "Committee of Safety," Charles Victor lived his early life in the farm country of Central California, near Lower Lake—a world apart from the upheavals happening 2500 miles distant in the Hawaiian islands.
The Morines were farm laborers. Charles Victor's parents Alice and Charles E. seem to have moved around a good deal, gradually making their way from the lake-strewn Northern Californian farmland north of San Francisco toward the city as the decades passed. In the days before Prohibition (as again in modern times), Lake County was known for acres of vineyards which produced fine wines, and perhaps Charles E. Morine worked the grape harvests, his sons joining him when they left school.

By 1900, when Charles Victor was ten years old, the family had grown to include five children, and moved to Vacaville (Spanish for "Cow Town"), in Solano County, where they would stay for at least ten years. The area must have remained quite rural, since the Morines and nearly all their neighbors are listed as either farmers or farm laborers. Charles E. Morine is described as a laborer in 1900, but by 1910 as a farmer: perhaps the family's extended stay in Vacaville allowed them to purchase their own place. The Morine sons began to work the land early, but not dramatically so: by the age of 15 or 16, they were working alongside their father. Interestingly, in light of Charles Victor's later life, the Morines' next-door neighbor Tony Sanchez was the only non-farmer on the street: he is listed as an engineer who worked on tractors. It's possible that the young Charles Victor, curious about his neighbor's line of work, got his introduction to the workings of machines from Tony.
It's certain, anyway, that by 1917, when he registered for the draft at the United States' entry into World War I, Charles Victor had left the farm. He was self-employed, working as an automobile machinist in the small city of Antioch. Still single in 1917, by 1920 he (30) and the 19-year-old Jessie Lambdin were married and living near Antioch with Charles Victor's younger brother Ruben (21). One gets a sense of the young peoples' propensity for practical joking: on the 1920 census, both Morine brothers claim that their mother Alice was born in Portugal, whereas every other piece of evidence clearly points to her having been born in California, just like her sons. Having known my own grandfather's love of good-natured teasing, I can imagine he might have inherited it from his father.
But Charles Victor's story gets more interesting in the early 1920s, when he and his young family made the drastic move to Wahiawa, Oahu, where he would work for decades as a mechanical engineer on the Del Monte pineapple plantations.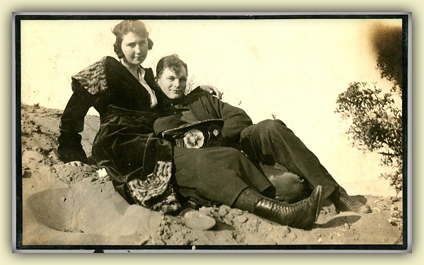 Hawaiian pineapple farming was a young and turbulent industry when my great-grandfather entered it. First brought to the island by European settlers in the early nineteenth century, the fruit was not cultivated for profit until 1898, when a group of white homesteaders from California set up an agricultural cooperative in the remote, uncultivated Wahiawa valley. The settlers experimented with different crops, but pineapple was one of the most successful. Throughout the first two decades of the century, these mainland transplants formed a slew of small pineapple-export companies while struggling to learn about and combat a plethora of unfamiliar tropical pitfalls: the islands boasted different pests, different forms of rot and mildew, and radically different soil conditions from the land they were used to farming. Each company soon realized it needed its own cannery in order to preserve the pineapple long enough to ship it to the mainland, and meanwhile the slightly more successful fruit concerns were gobbling up the slightly less successful ones, creating a rapid consolidation that was still going on in the 1920s. It was very much an industry in transition that my great-grandfather entered when he took a job with the California Packing Corporation, whose fruit was beginning to be marketed under the label Del Monte.
In his 1992 History of Del Monte Pineapple in Hawaii, long-time Del Monte employee Robert Kehlor writes:
When we speak about agricultural engineering for Del Monte in Hawaii, we think of one man and that was "Vic" Morine. Mr. C.V. Morine was a self-made, but very outstanding mechanical engineer. It was he that everyone turned to anytime they needed a machine and Vic would build it.
Indeed, by 1930 Charles Victor was hard at work, attacking the problem of mealybugs by building a high-pressure sprayer for the application of mineral oil emulsion to pineapple plants about to blossom. He went on to build more sprayers, as well as "plows, disks, subsoilers, stump cutters, and a pineapple shredder" which could shred an acre of plants an hour in 1934. In the late 1940s Charles Victor built his pineapple harvesting machine, described by Kehlor (and several of my family members) as his "most outstanding work." It included on-board fruit storage bins: the full bins were constantly being switched out for empty ones by special trucks, eliminating the need for the men and women working the field to stop in order to transport the harvested fruit. The harvester design was also versatile, doubling as a seed carry-out earlier in the season.
From a modern perspective, the utter lack of regulation in the early pineapple industry is somewhat horrifying. Without even the slight oversight that may or may not have existed in a pre-EPA United States, the Association of Hawaiian Pineapple Canners set up a so-called "Experiment Station" in Wahiawa to research methods of pineapple breeding and of pest and disease control. Later, chemical pest control became a focus, and in the absence of any approval process, research could be applied quickly and completely. A 2005 US Geological Survey relates that
Annual amounts of herbicides applied on sugarcane and pineapple crops in Hawaii may be as much as five times the amounts applied in major temperate-region field crops […] The intensive use of herbicides, year-round cultivation practices, and proximity of agricultural lands to streams may enhance the possibility of pesticide transport to streams.
Prior to 1970, when the EPA was founded, this use of chemicals could only have been heavier. My grandmother tells me that, by the 1950s, the water table on the island was severely compromised by agricultural runoff.
Nevertheless, the chaotic, free-wheeling early years of any endeavor have their undeniable appeal, as well as their drawbacks. Charles Victor Morine was a self-made man, and the rapid-fire obstacles encountered on the early pineapple plantations provided him an ideal forum in which to apply his love of mechanical problem-solving, despite probably never having graduated from high school. The flip side of the uncertainty and lack of oversight is that there would have been no middle-man: a mechanical or chemical engineer could see their products applied as soon as they were created.
Yet the impression of Charles Victor that always strikes me, in photos, stories, and my own memory, is not of a driven, obsessively ambitious person, but of a kind man, full of humor, to whom relaxation comes easily. With his pipe, his pet tortoise, and his easy colloquialisms*, he seemed to me designed for island life. The Charles Victor tunic was conceived with that in mind: worked in a linen/merino blend, it's cool and airy. Its relaxed fit is ideal for lounging, but provides freedom of movement if you need to climb up into a tractor or a harvesting machine. The basket-weave borders and toggle fasteners recall an earlier era of Hawaiian life, while the pineapple motif provides an homage to the industry in which Charles Victor distinguished himself.
* Charles Victor would deliver this little saying in pidgin while patting his pockets before leaving the house; literally, it means "Matches, pipe, 25 cents of tobacco, and plenty provisions for shot gun." For Charles Victor it was only figurative; as my uncle Mike says, "he was checking to see if his stove was off, the lights were off, no running water, keys in pocket and of course he had on his person a pipe, lighter and tobacco." Thanks to Mike Morine for the great performance!